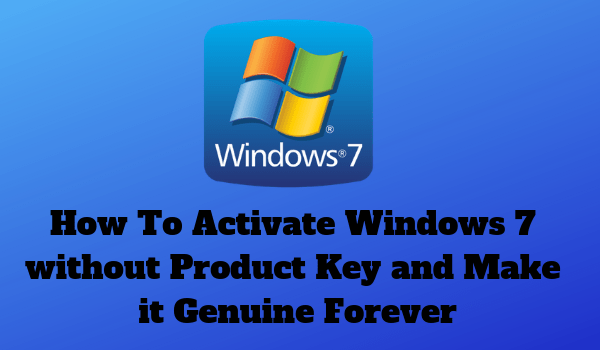 Hello there, today in this post I will tell you How To Activate Windows 7 without Product Key and Make it Genuine Forever.
In this modern world, everyone wants to try new things. Though Windows 7 is an ancient product from Microsoft, everyone still wants to try it.
Some people like the look and feel of Windows 7, even its ultimate, home basics, and business versions. They want to use these versions of Windows, and I think it is the best version of Windows until now. So, let's activate windows 7
What is Microsoft Windows?
According to Wikipedia:
Microsoft Windows, commonly referred to as Windows, is a group of several graphical operating system families, all of which are developed, marketed, and sold by Microsoft. Each family caters to a certain sector of the computing industry. Active Microsoft Windows families include Windows NT and Windows IoT; these may encompass subfamilies, e.g. Windows Server or Windows Embedded Compact (Windows CE). Defunct Microsoft Windows families include Windows 9x, Windows Mobile, and Windows Phone.
Windows Trial Version?
If you have installed the trial version of Windows 7 32-bit or 64-bit, it provides 30 days of trial. After this period, you have to purchase the key from the Microsoft store to activate windows 7.
Otherwise, your operating system will not run well or it will also tell you that you have 1 or 2 days left to activate.
Some people also ask me on my youtube channel, how do I activate windows 7 on my pc? I tell them that don't worry, I will help them and guide them through the whole process of how to activate windows in two ways, and I will also provide some windows 7 activation keys.
ALSO READ: HOW TO REMOVE YELLOW BACKGROUND IN ADSENSE ADS IN WORDPRESS
Windows 7 System Requirements
Processor: 1 GHz
Ram: 1 GB for 32-bit and 2 GB for 64-bit
Storage: 16 GB for 32-bit and 20 GB for 64-bit
Graphics: DirectX 9c or Higher
Or you can check windows 7 requirements here
Two Ways To Activate Windows 7
1. Activate Windows 7 using CMD Prompt
Step 1. Go to the start menu and search cmd, then right-click on it and select Run As Administrator.
Step 2. When the cmd prompt opens, you have to enter a command in it. Enter slmgr –rearm and hit the Enter key

Step 3. When you enter the command given above, it will ask you to restart your pc, just restart your pc.
Step 4. When your pc restarts, run cmd prompt as administrator again and type slmgr –ato, and hit the Enter key.

Step 5. Now you will see a pop-up message that your windows is activated successfully.
So, this is how you can activate windows and make it genuine using the cmd prompt. Hope it will work for you. If not read the second way below.
ALSO READ: HOW TO USE WHATSAPP WITHOUT NUMBER
2. Activate Windows 7 using Windows Loader
Windows loader is a straightforward way to make windows genuine. I am also using windows loader to activate windows 7 and make it genuine forever. So follow my steps, and you will also be able to make it genuine.
What is a windows loader?
Windows loader is a simple program that helps to make your windows version completely genuine. You have to run this program once, and it does not require any internet connection. This software is also safe to use, and it will not harm your pc or laptop in any way.
To install this just turn off the windows update in the control panel and you are good to go.
Download Windows 7 Activator
Step 1. First, go to this link 4shared and download the software in the rar file.
Step 2. Now you will see a Download Button as shown in the image below, click on it.

Step 3. When you click on the download button you will see a 60 seconds countdown. When the countdown ends hit the download button.
Step 4. When you click on Free Download, you will see a pop-up box as shown in the image below. Nothing to worry about. Just sign in using your Facebook, Twitter, or Google+ account. ALSO READ: How to download subtitles of a movie on android phone
When you sign in using any of your accounts, the download button will unlock, and you will be able to download the file. As you can see in the image below that, I got the download link from 4shared.
Step 5. Once you have downloaded the file, extract it on your desktop using any software like Winrar, 7-zip, etc. If you don't have one, download the WinRAR. You will see the following files in the windows loader.rar file.

Step 6. Once all the files are extracted from the rar file, go to your computer properties. Right-click on my pc or computer on your desktop and select properties.
ALSO READ: HOW TO BYPASS FRP GOOGLE LOCK ON ANDROID
Now a new window will open with your computer properties. You will see the windows update option on the bottom left side of it; click on it.
Now on the top left side, you will see change settings; click on it. From the drop-down menu, select never check for updates and also un-check allowing all users to install updates on this computer. Click on OK.
Step 7. Now open Windows Loader Application.

Step 8. Now you will see the details of your windows on this software as you can see in the image below.
Now just hit on the install button and wait and it will take 2-5 minutes to complete the whole process.
Step 9. Now you will see a pop-up message saying to restart your PC. Click on it and restart your PC.
Once you restart your pc go to my computer properties again, and you will see that your windows 7 is activated and genuine forever. You can see the image below when I activated my windows using this loader, and the image is blurry because I captured it from my old youtube video.
Now I hope that you have successfully activated windows and I am happy about it. If you are happy, please tell me in the comments below.
Windows 7 Activation Product Key free download
H4BDD-RG9TY-BWTH9-3R2K4-RRT7X
83X1Q-XWQ8W-QHFDX-DHPQW-RP94C
XG3L4-TYXGR-AC86J-FMEMT-VV4CQ
XBG4G-7BJH2-YIQP2-XC8WG-0PDPR
FJBCG-VYBRP-4T4MD-WOR3B-8776R
GTEPC-YF8BP-PWJ1H-4VJVF-C8PYR
VQ53Y-YDT34-3HQJY-93LXJ-P12FX
FG1IC-TYVUG-BK4WC-RDT8P-Y87U9
BMC54-PMU0B-3DBLK-BQPTT-JBFQQ
YM00J-JK12M-8EBQ6-X480R-FHGV7
2T7IM-3K2X3-93T9J-MCIMV-B10B2
5TUIL-2SG8K-456YJ-TW3T-A12E1
Windows 7 Features:
Themes: There are a lot of themes included in windows 7, and they are amazing. You can choose from 13 beautiful themes that will make your pc look awesome. In addition, you can customize your desktop with different icons such as my computer, Network icons, etc.
Wallpaper and Screen Customization
You can also change the desktop background using a pack of wallpaper build-in, or you can also choose a particular photo from your pc to set it as the background. This feature is great.
2. Desktop Slideshow: Now, this is something we can call amazing. It is because this feature allows us to change desktop wallpaper after some time if selected automatically. When after 1 or 2 minutes the wallpaper changes, it also does not consumes much RAM of your pc.
3. RAM Management: Windows 7 ultimate or professional or home basics are built so that it uses RAM in a very effective way so that you do not feel that there is a lag in your pc.
4. Gadgets: There are some gadgets included in windows 7, such as Ram and Cpu usage gadgets, Notes, and much more. You can put these gadgets in the right sidebar of your desktop, which makes your pc look cool.
5. Start Menu: Start Menu in Windows 7 is completely different from its previous version, i.e., windows vista. In windows 7, you can see my computer and other important icons, and you can directly search for an app or file in the search menu.
6. Task Bar: The taskbar in Windows 7 is amazing. It has a transparent effect which makes it look beautiful. When you open a particular app or window, the taskbar automatically changes its looks according to the open window.
The amazing thing is you can pin apps on the taskbar. Just click on the start menu and find the app you want to pin on the taskbar. Then right-click on it and select pin to taskbar, and done.
So these are some features of windows 7 ultimate or professional.
NOTE: If you want to know how to activate windows 10 pro, any version, you can comment below. I will write a post on it.
So, friends, this is how you can activate windows 7 free at your home without spending any penny. Please share this on your social profiles so that your friends can take benefit from this.
5 minutes 5 minutes.
Follow these instructions to Activate Windows 7 using CMD Prompt
Go to the start menu and search cmd, then right-click on it and select Run As Administrator.




Enter Command and Restart

When you enter the command type slmgr –rearm, it will ask you to restart your pc, just restart your pc.



Run as an administrator

When your pc restarts, run cmd prompt as administrator again and type
-ato
and hit the Enter key.


Pop up message

Now you will see a pop-up message that your windows is activated successfully

Summary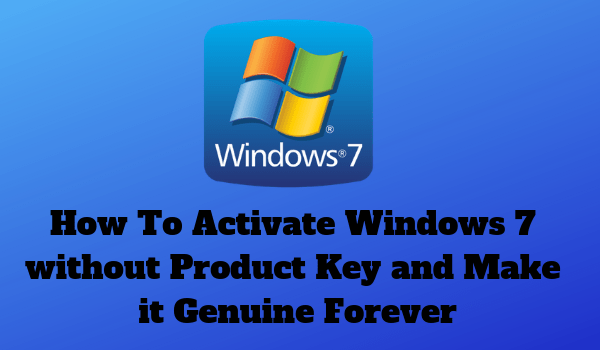 Article Name
How To Activate Windows 7 without Product Key and Make it Genuine Forever
Description
Two ways To Activate Windows 7 without Product Key and Make it Genuine Forever. After reading this post you will able to activate your windows
Author
Publisher Name
Publisher Logo